So I posted a while ago, trying to get opinions about whether or not to move into a new unit. I live in a low-rise, 100 year old heritage building in Toronto with my wife, our 9 month old daughter and our two cats. We decided to go for it, and haven't looked back! We are absolutely loving the new space. Sure, we miss having closets and the fire escape doesn't have quite the same appeal as our old balcony (although since it's winter we haven't noticed that issue much), but the new space is so much bigger and brighter. We're still getting stuff on the walls and other small things (isn't it always a work in progress???) but it totally feels like home. We see ourselves staying here for a good long while!
here
is the post with the floorplans and photos of our old apartment.
First, some before shots. These were taken before we moved in - the guy who lived here before just happened to also have a red couch.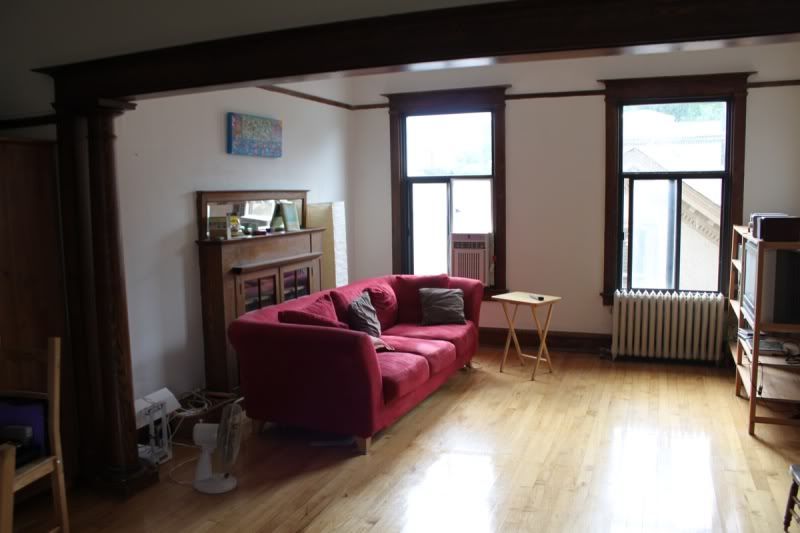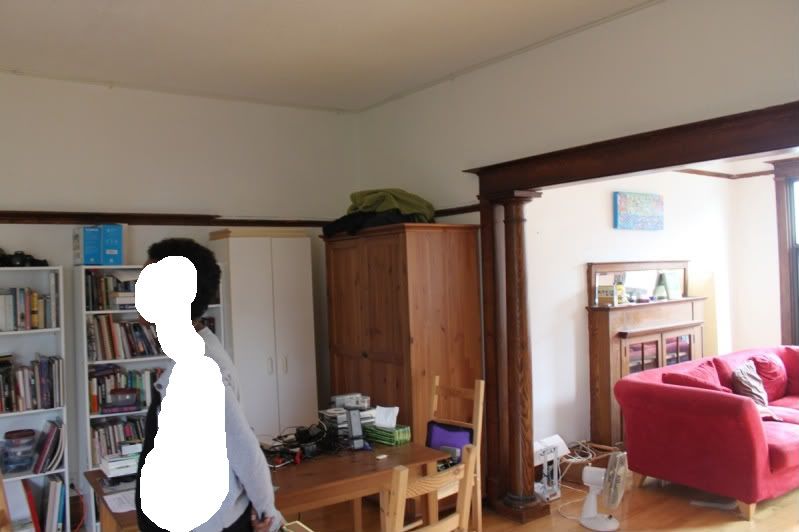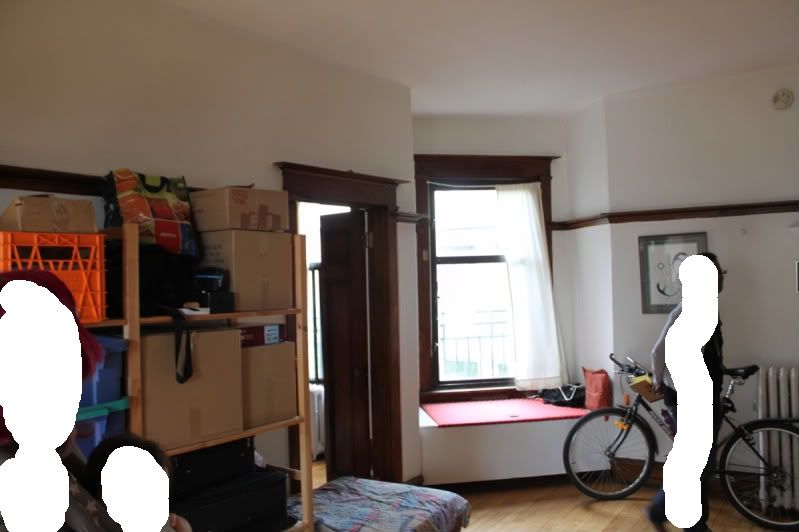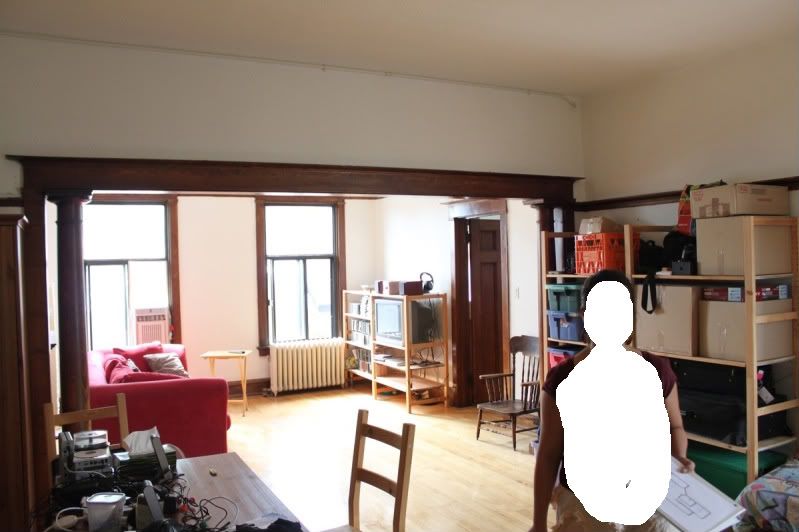 kitchen
bedroom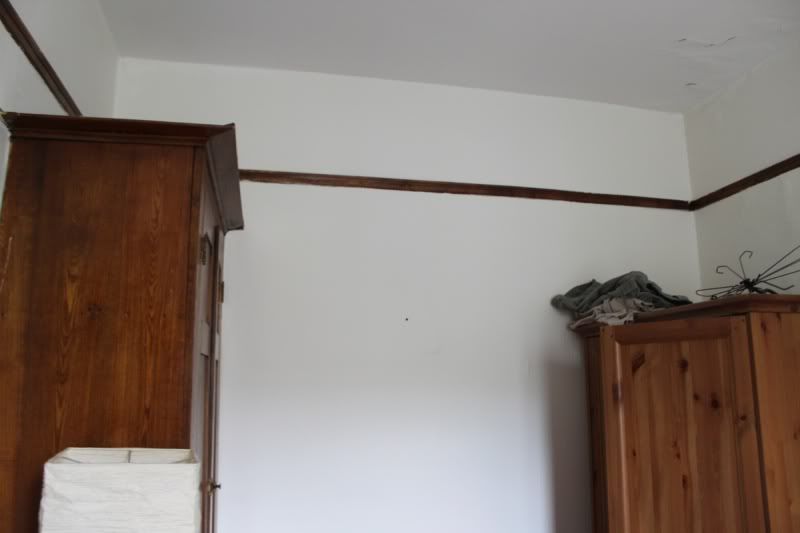 And now!
Entrance. We are missing a front hall closet, so we splurged on an excellent coat rack.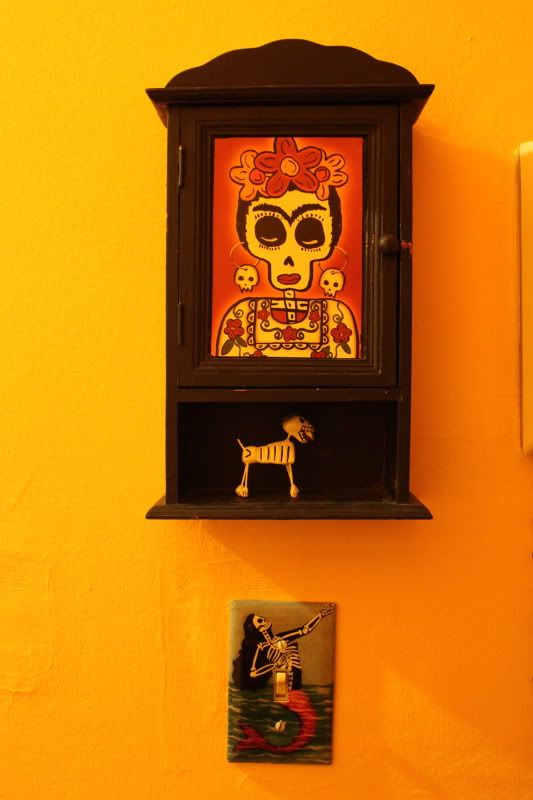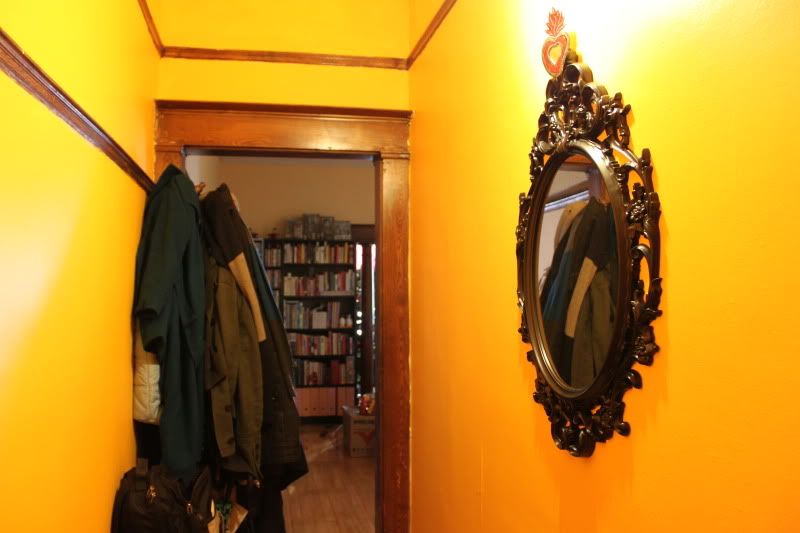 Hall leading to the kitchen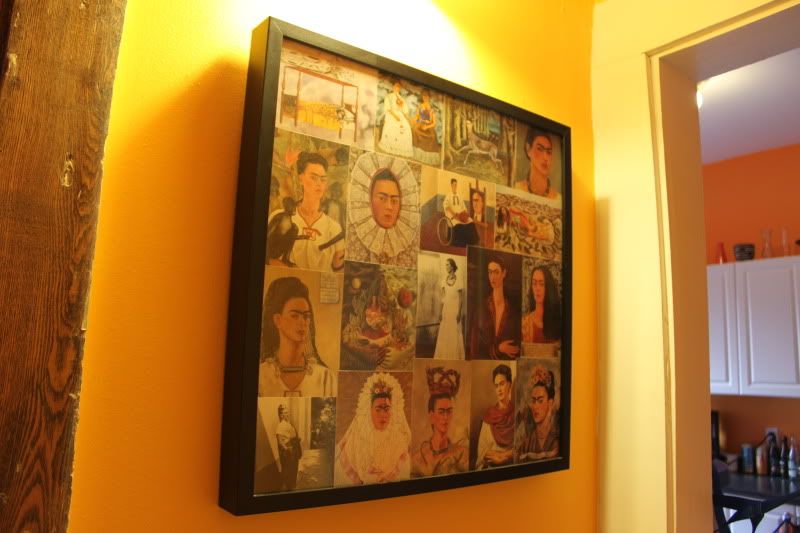 Some folks think we should put this poster away when our daughter gets a bit older...on one hand, it's effin' rad. On the other hand, it's a poster of girls with big guns. Hmm.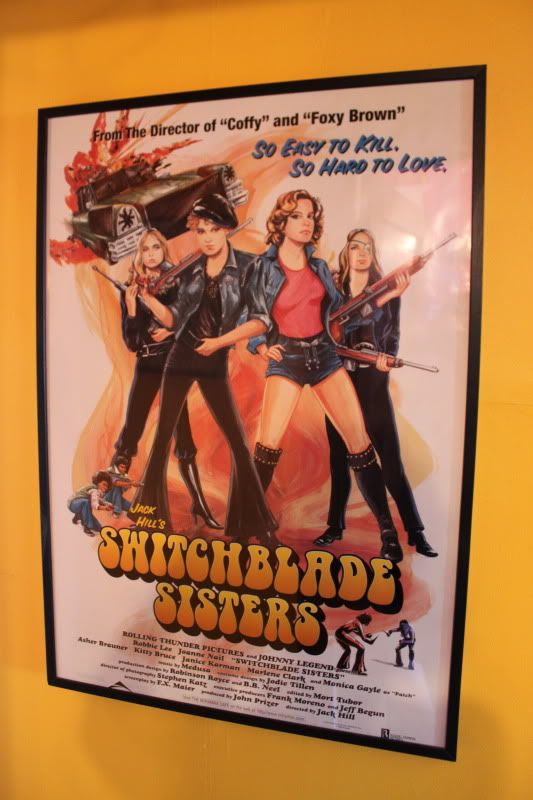 Kitchen. The old floor and cupboards were in rough shape, so the building put in brand new floors and cupboards. Loving them!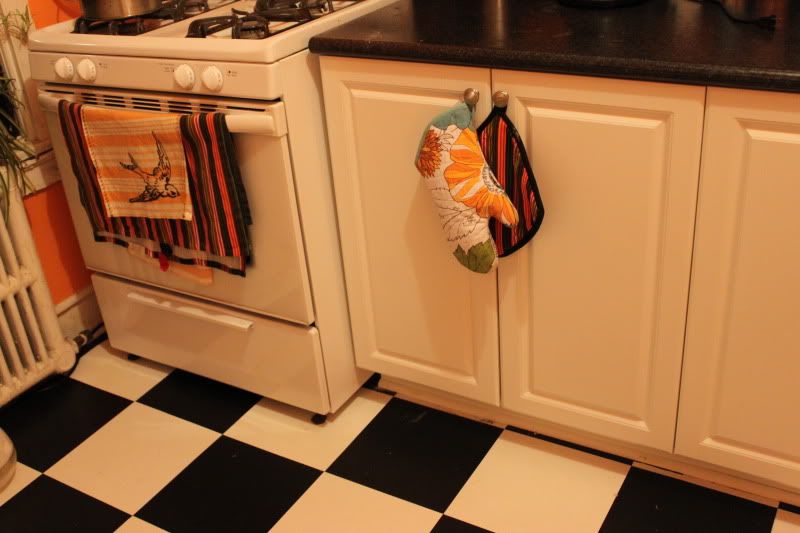 We ended up using a lot of the same paint colours - because a) we like them and b) we didn't want to/can't afford to buy a lot of new stuff! This one is actually a slightly warmer, lighter orange than our old kitchen that still matches the curtain.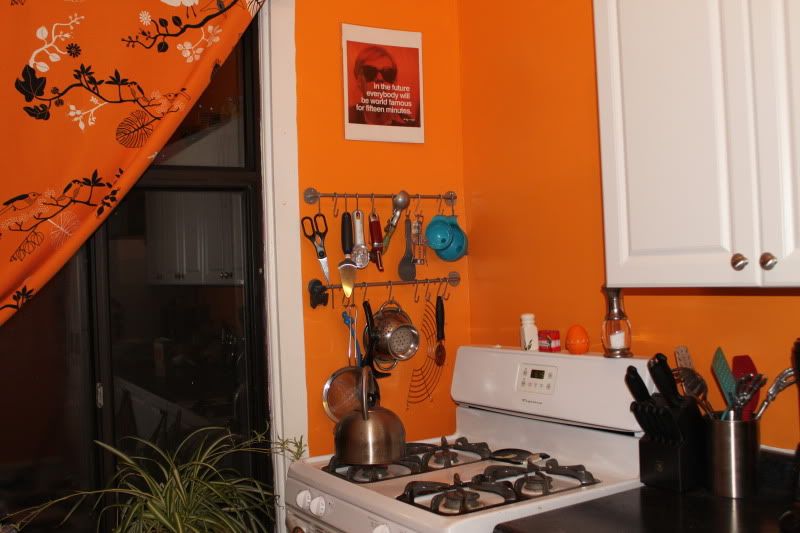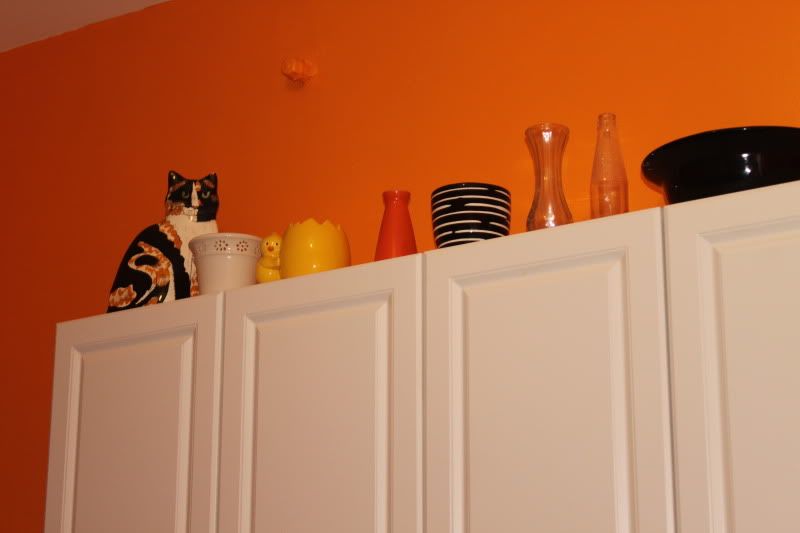 This rack used to be in our bathroom, but wouldn't fit in the new space. Now it's a kitchen rack instead!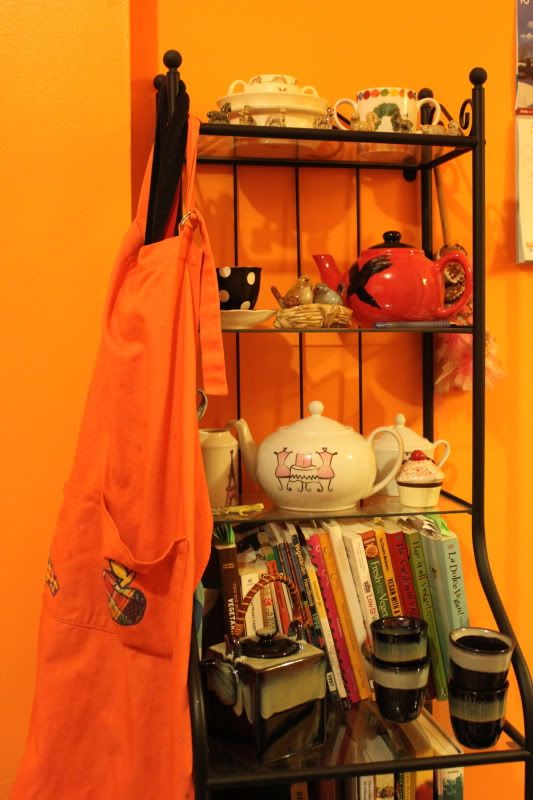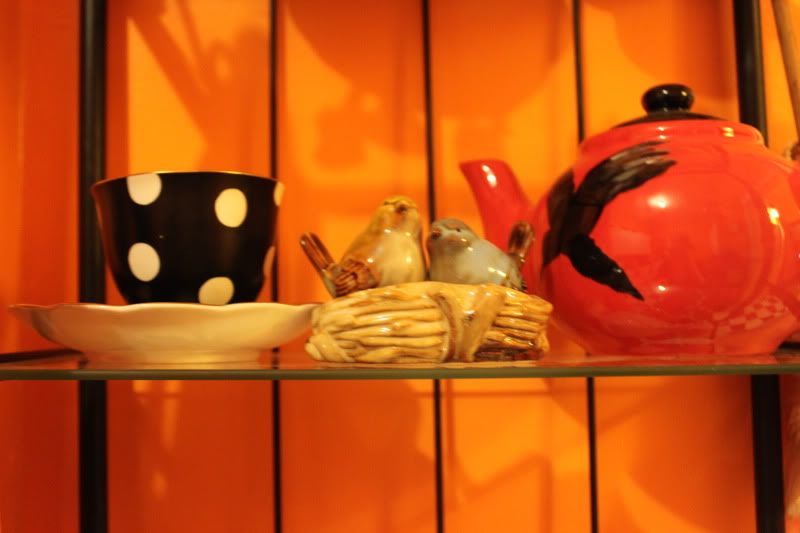 Various tins from Amsterdam/Iceland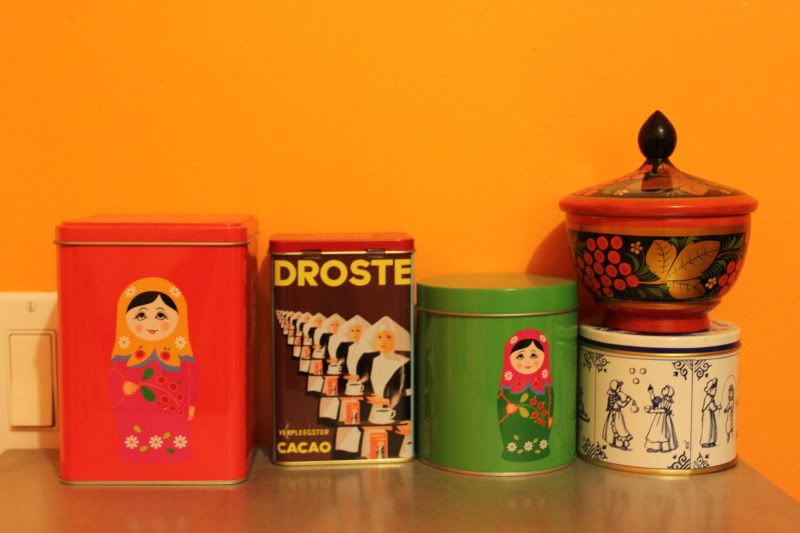 Bathroom. Same pink. We had half a can leftover so I squeezed every last drop out of it. We're both off work right now, so are on a relatively right budget.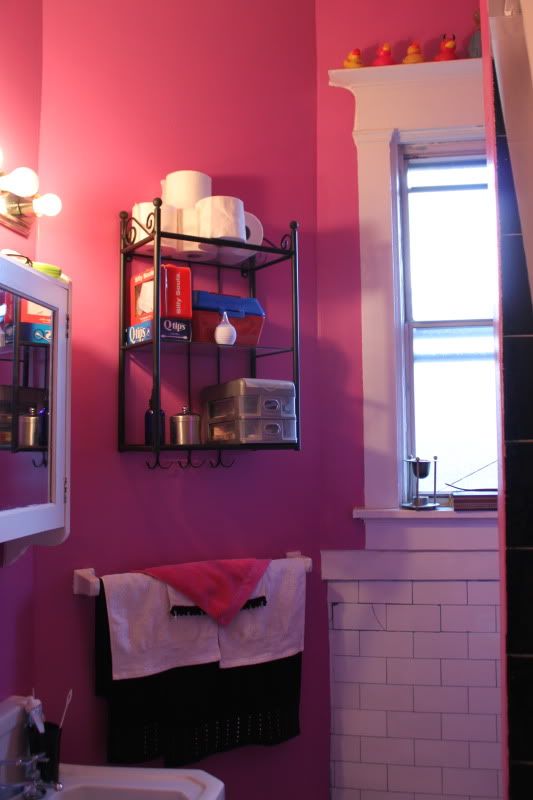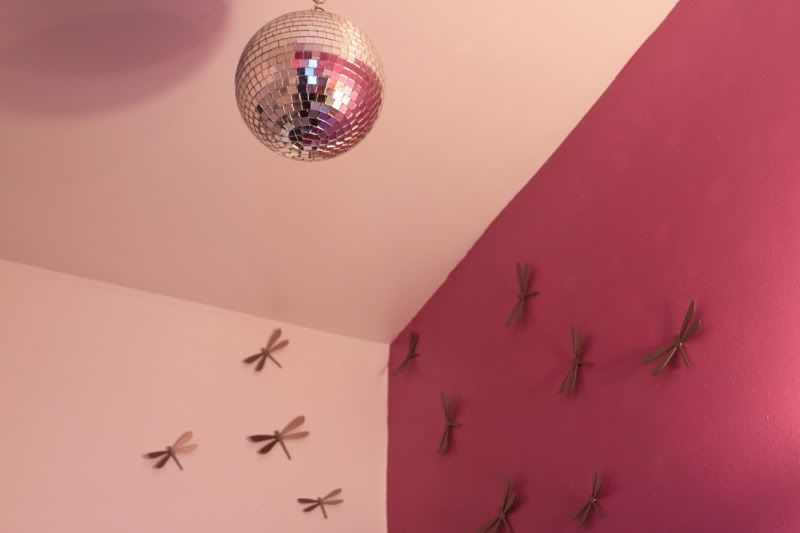 We miss our clawfoot tub. But this shower curtain is pretty rad.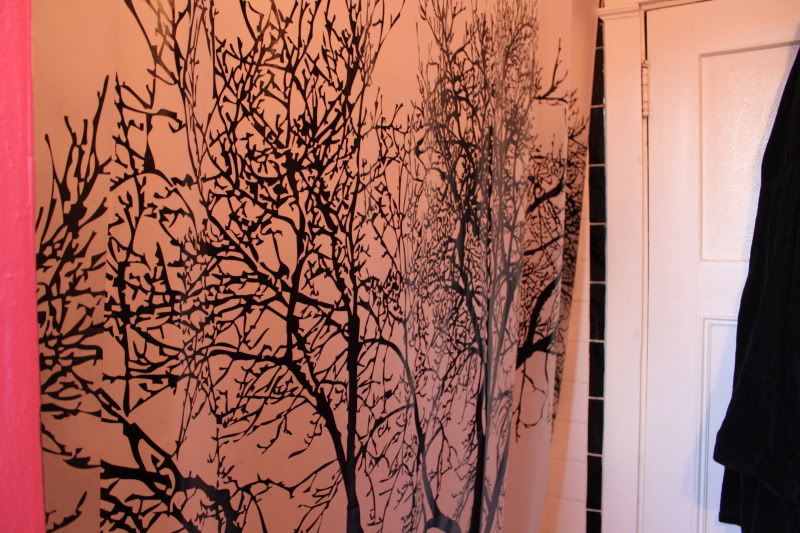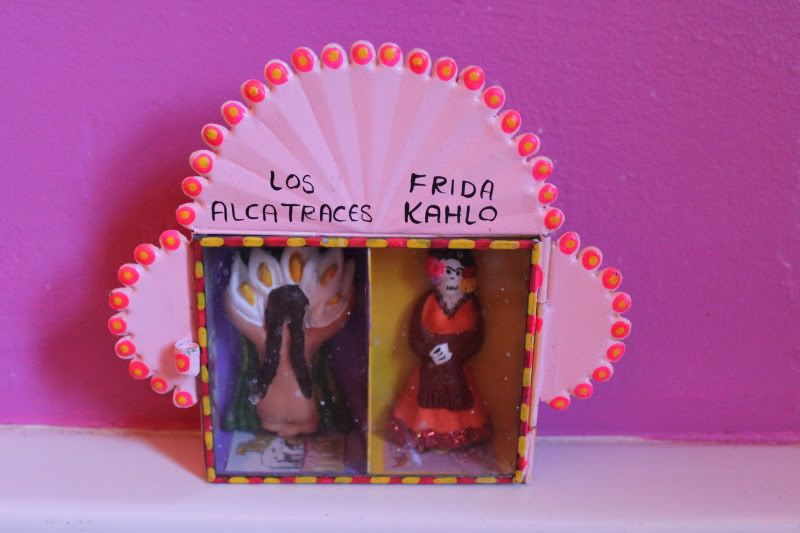 Living room/dining room/office. This space is HUGE. It gets a ton of light and feels awesome.
Living room now. We're ordering a small sofabed since we had to ditch our old futon (as the cats peed on it...sigh). Hopefully it will fit in well....it's a big enough space, so I think it should be ok.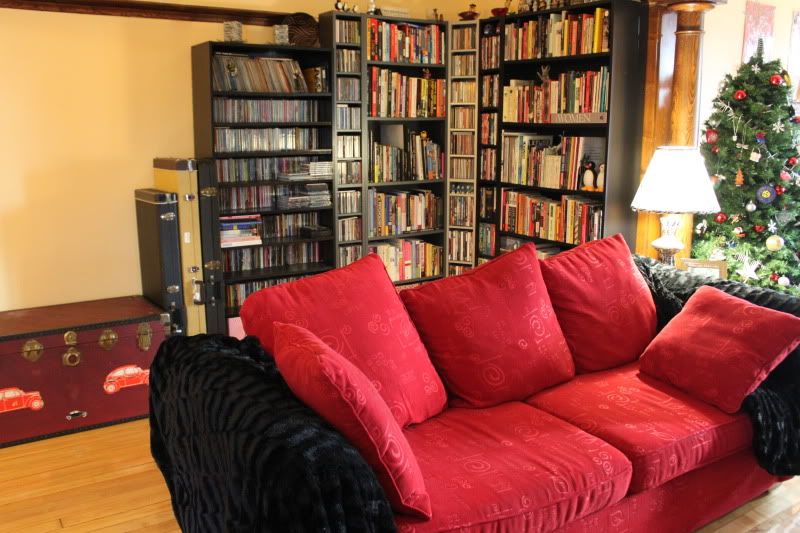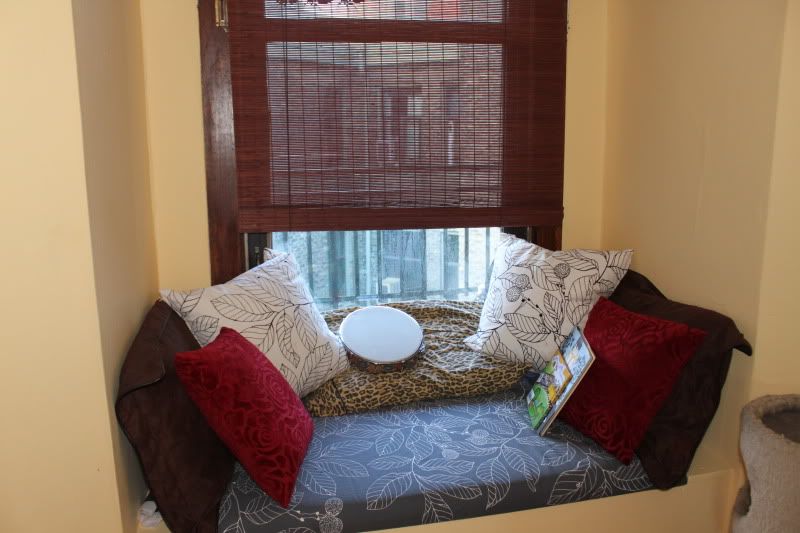 OPINIONS SOUGHT: We need a rug for the living room. Any thoughts? Colour, size?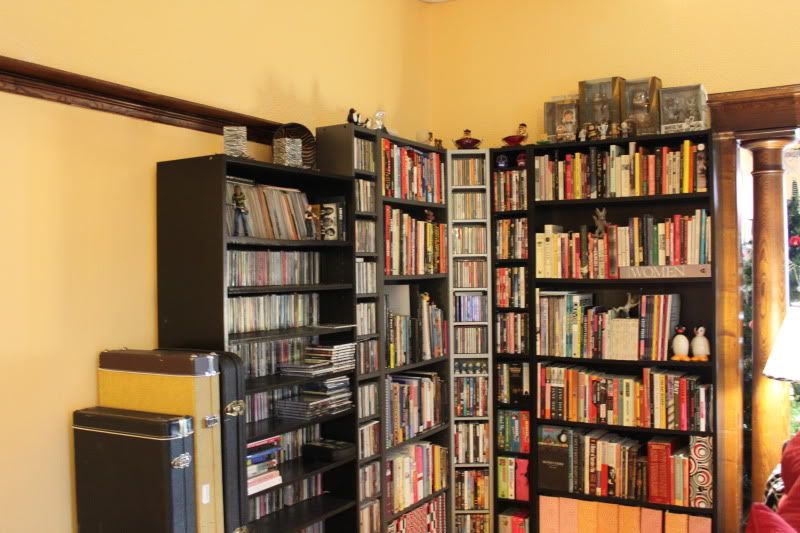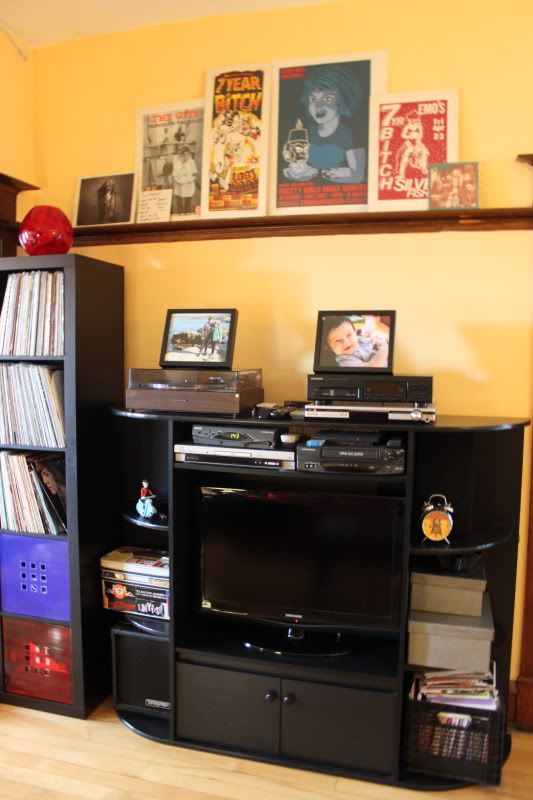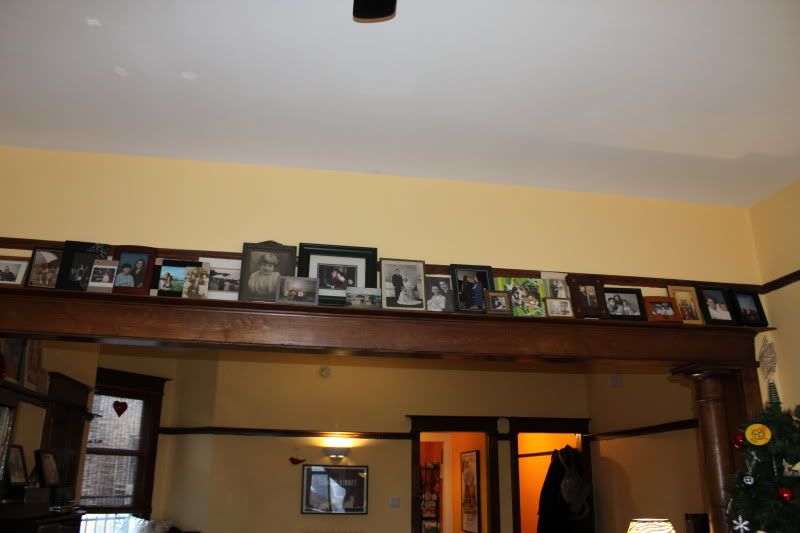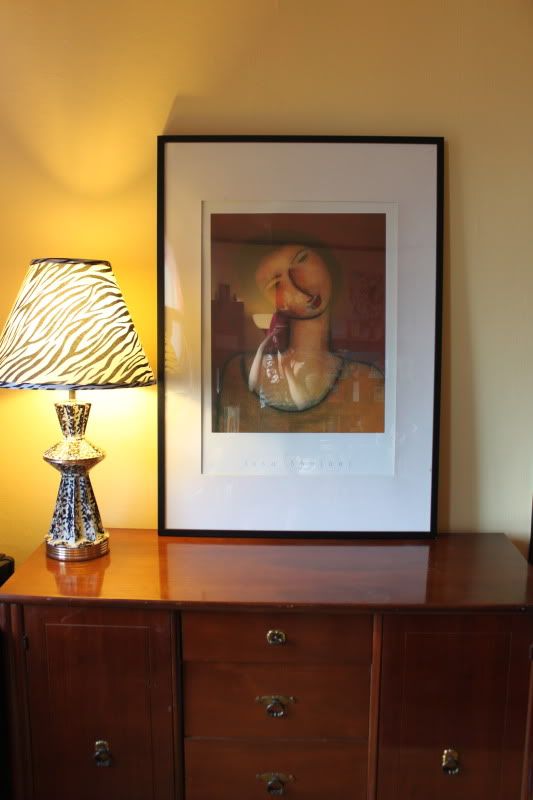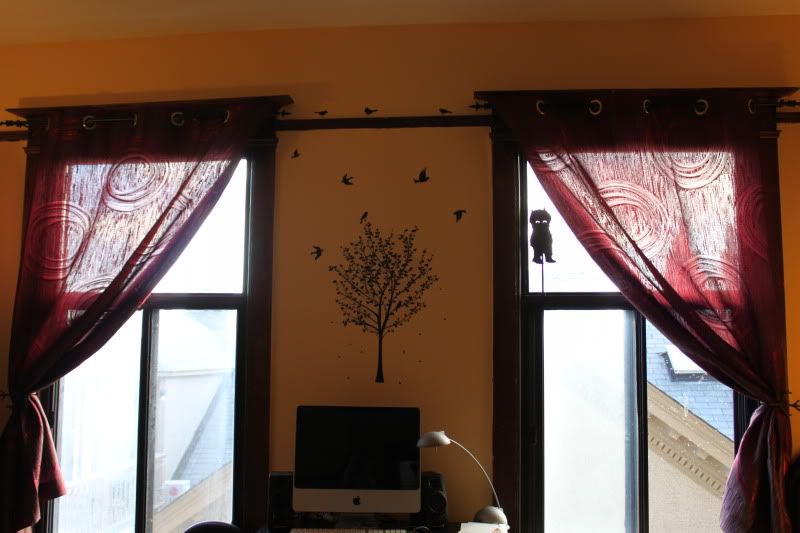 Sadie's room. I love this colour! It was inspired by the cover of a Charley Harper board book we have for her. We are planning on buying some birch tree decals for the walls once we're both working again. We were inspired by
this room
.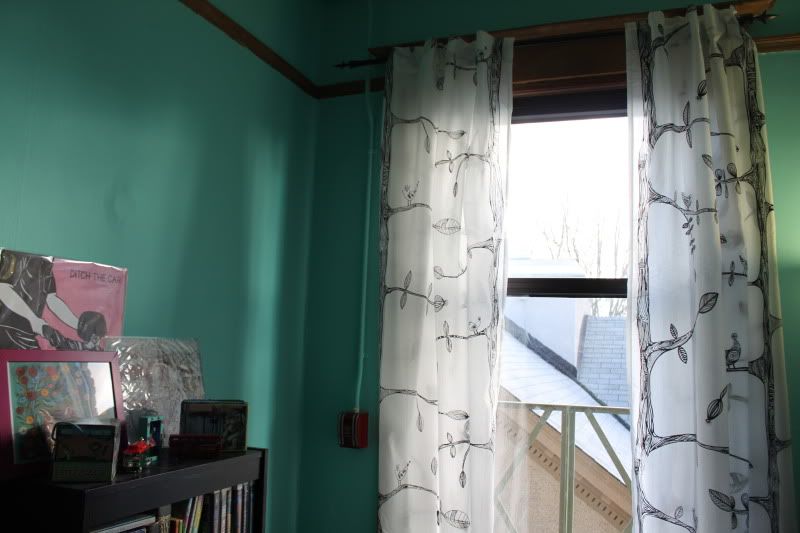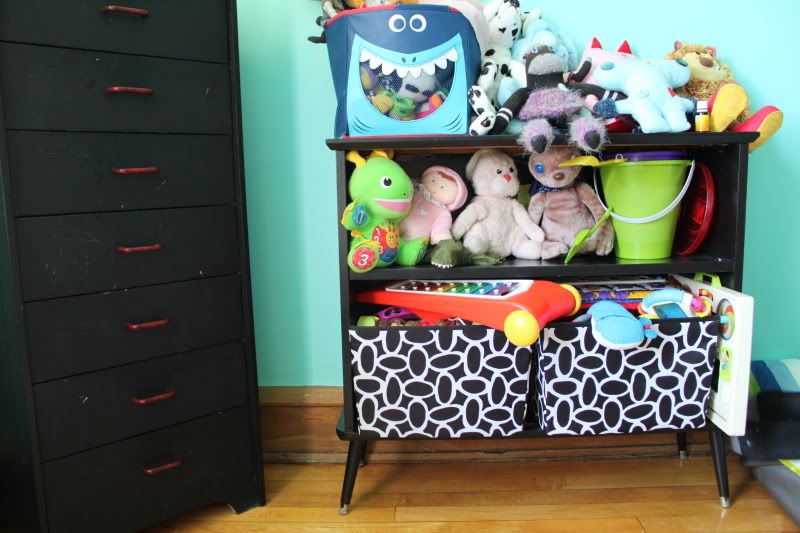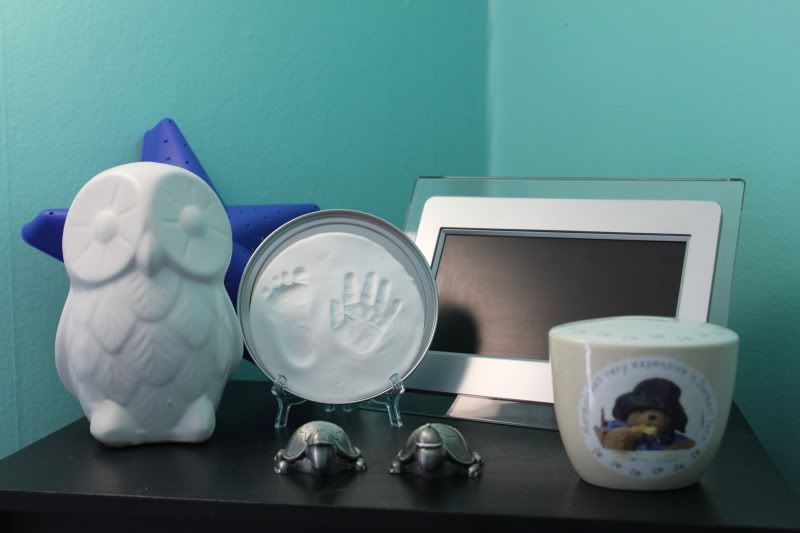 Mobile I made.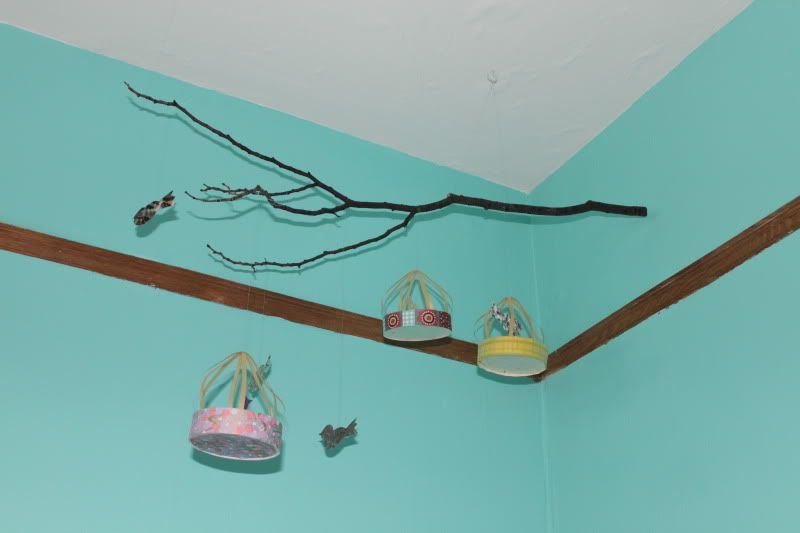 Our bedroom. This is 'November Skies' paint colour. We moved at the end of October and indeed, we saw this colour sky many, many times after we moved.
Coincidentally, we both inherited our grandfathers' typewriters after they died. The 'hands' are a jewellry holder my grandfather made, using my grandma's hands as a template.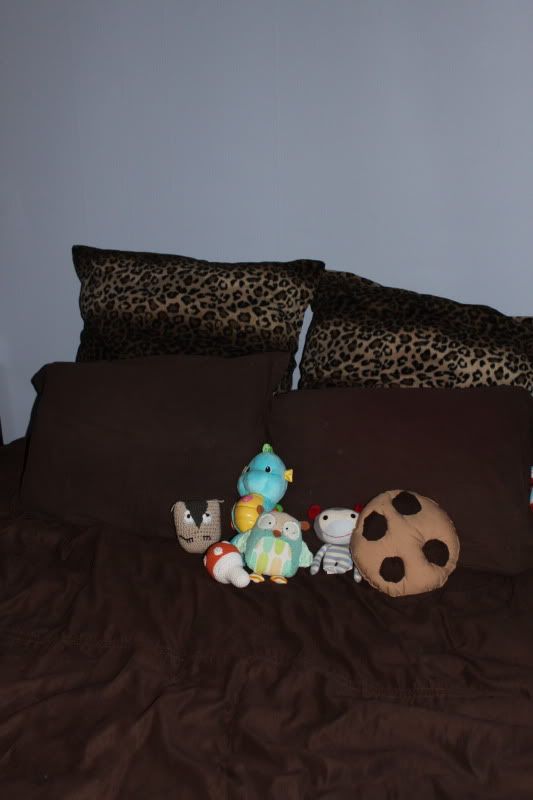 We co-sleep, hence the toys.
Naked lady sketch we got at a flea market.
I just realized I don't have photos of the two walls where I was seeking opinions on what to do with them! Oops. Will post again once I have the photos taken.
Thanks for looking in the meantime!